Register Now!
Or paste this link in your browser's address bar: https://forms.gle/M4Q3QYnPZp3YjrQK6
Frikadeller of falafel? Barrières en drijfveren om minder vlees te eten in Denemarken
Denen zijn, net als Nederlanders, fervente vleeseters. Het eten van veel vlees heeft echter nadelen, het verhoogt het risico op aandoeningen en ziektes en het heeft een enorme impact op het klimaat. Denen worden zich hier steeds meer van bewust en de helft zegt graag minder vlees te willen eten. Ondanks deze intenties eten Denen nog steeds net zoveel vlees bij het avondeten als drie jaar geleden. In het afgelopen jaar heb ik een representatief onderzoek uitgevoerd naar de motieven en barrières om minder vlees te eten in Denemarken en in deze lezing zal ik hiervan de resultaten toelichten en bespreken waarom de vleesconsumptie nauwelijks afneemt.
Tijdens de Dutch Lunch Talk wordt dit onderwerp besproken door Marijke Hielkema, onderzoeker en PhD student aan de University of Copenhagen. Website: https://ifro.ku.dk/english/staff/?pure=en/persons/638861
Aanvang: 11:30 uur (broodjes worden aangeboden door de ambassade).
Uitnodiging & programma: http://bit.ly/2PFHxtL
Online registratie: https://forms.gle/M4Q3QYnPZp3YjrQK6 (deadline: 24 januari)
Locatie:
Ambassade van het Koninkrijk der Nederlanden
Toldbodgade 33
1253 Kopenhagen K
P.S. Reserveer alvast de data voor de komende Dutch Lunch Talks:
- 26 maart 2020: Diantha Nota (ROCKWOOL International & Dutch-Danish Society) – n.t.b.
- 28 mei 2020: Mark Denessen (Zentropa) – Bezoek aan Zentropa (Filmbyen): Hoe kun je creativiteit managen in de filmindustrie?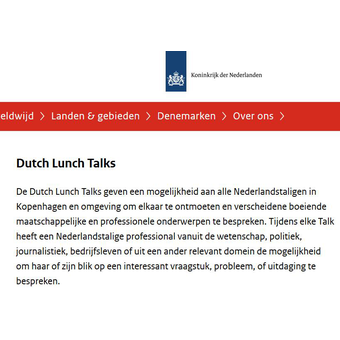 Dutch Embassy, Toldbodgade 33, 1253 København, Denmark