La prochaine rencontre de la FrenchTech Nordics de Copenhague aura lieu le lundi 23 avril 16h45-18h45, sur le thème suivant :
Changement climatique : Le business de l'information stratégique au service du développement bas-carbone
Déroulé de l'événement
Ouverture des portes : 16:45

Début des présentations : 17:00, suivi d'un moment informel d'échange et de partage

Fermeture des portes : 18:45
---
Présentateurs :
Mathieu Carlier - Co-founder, Everimpact
Everimpact propose aux villes une plateforme de mesure et de monétisation de leurs émissions carbones. Everimpact mesure les émissions de CO2 en temps-réel en combinant données satellites et capteurs au sol, pour permettre aux villes de certifier leurs réductions d'émissions et de générer des revenus pour financer leurs plans climat.
Les premiers tests pilotes ont été conclus en Espagne (Malaga et Barcelone) ainsi qu' à Londres (Royal Greenwich Borough). Everimpact prépare le déploiement de sa plateforme dans 10 villes du sud en partenariat avec l'ONG R20.
Olivier Corradi - Co-founder, Tomorrow
Climate Change is the biggest challenge of our time, and living sustainably requires navigating through a jungle of complex trade-offs, not easily understood and not always accessible. Information has to precede action. Olivier Corradi, founder of the startup Tomorrow, will come to explain their ambition to quantify the greenhouse gas emissions of our daily activities, enabling anyone to understand the climate impact of their decisions.
Stéphane Quéfelec - Statistics & Economics, Sigma Crux / ENERGIES 2050
Les acteurs économiques prennent de plus en plus en compte les préoccupations climatiques dans leurs analyses et leurs décisions, où l'information chiffrée joue un rôle central. Elle est indispensable à la définition des politiques publiques, des stratégies à mettre en œuvre et de leur suivi.
Le conseil en statistique, indicateurs, et système d'information spécifique pour l'aide à la décision publique stratégique en matière de politique climatique (bas carbone et d'adaptation) est ainsi un secteur en plein développement dans lequel ∑Crux et ENERGIES 2050 ont acquis une expertise pointue.
http://energies2050.org
A bientôt !
Frédéric Hasbani | La French Tech Nordics - Denmark | frenchtech.dk@gmail.com |
Antoine Montier | 53 33 54 39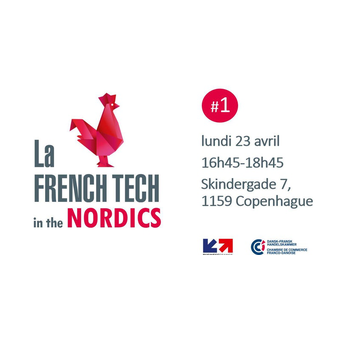 Skindergade 7, 1159 København, Denmark